Tulane Prepares for a Nautical Showdown on ABC
Green Wave could have first 2-0 start since 2002
Write-up by FTW writer Kelly Comarda and FTW Editor JP Gooderham. Follow FTW on Twitter, Facebook, and our podcast.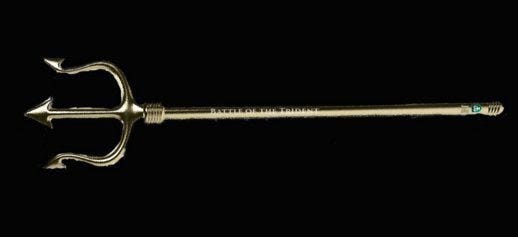 WELCOME, GREENIES, TO TRIDENT TROPHY WEEK — a very real and not at all made up rivalry trophy between the country's preeminent naval force and the country's preeminent nautical mascot.
Today, we're breaking down Navy @ Tulane which will happen at 11 AM (CT) Saturday on ABC, where the good guys will make their glorious return to ABC for the first time since 1980.
Wave Back: Win over South Alabama
As we're all aware, Tulane went to the T̶h̶u̶n̶d̶e̶r̶d̶o̶m̶e̶ Mobile, Alabama and left with a 27-24 victory over South Alabama on Saturday night. And folks, how unlikely did the win look? To the outside observer, not very likely during that game! ESPN had South Alabama with a 95% chance of victory with 10:00 left in the third quarter before the Green Wave made a charge. So things were looking grim after the Sun Belt had knocked off three Big 12 teams on the same Saturday.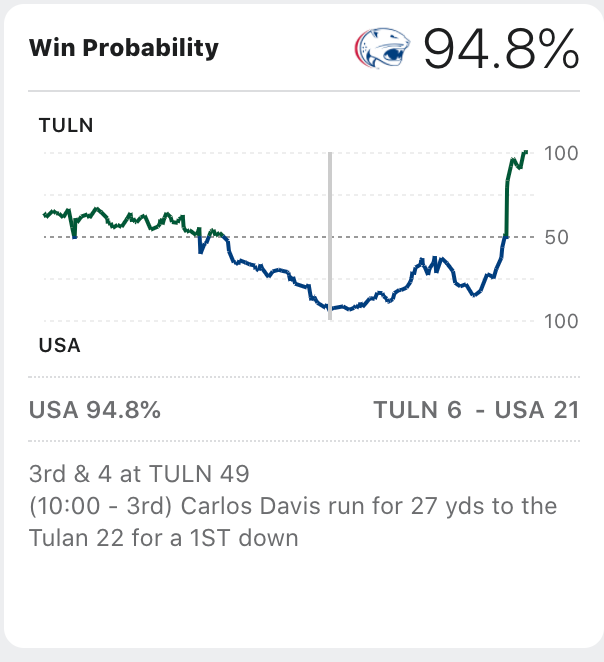 The #statistics, however, were not aware that Tulane is built for second half comebacks, and the Green Wave would surge late to leave with a win.
Takeaways from South Alabama
Here are three takeaways from South Alabama:
(1) The Pressure Returns: One of the major storylines going into this year was the hope that we would see a return to form for Tulane's defense in generating pressure and creating havoc.
In Game One, Tulane delivered 12 tackles for loss — that outpaced every single game in 2019 (as the best game last year produced 9 TFLs against Tulsa followed by 7 against Southern Miss and UCF). If this is a sign of things to come, it's an extremely positive trend.
Cam Sample and Patrick Johnson looked like the agents of chaos that we needed, especially in the second half to stall the Jaguars.
(2) Passing Game is Still In Progress: Keon Howard made his debut as the starting quarterback for Tulane. While he left Mobile with a win, his 14 for 30 performance with 191 yards passing left some work to be done. That does not fall squarely on Howard after some catchable misses, but Tulane will look to bounce back and show progress in the passing game as we look at the Navy game.
(3) The Time of Tyjae Spears: "New-ish-comer" Tyjae Spears was a storyline this offseason as we discussed on our podcast last week. He looked the part. His 105 yard debut was good for 9.5 yards per carry while he added a couple of receptions for 30 yards in the passing game. The offense feels most explosive when Amare Jones and Spears are on the field, and the running game found its footing in the second half as the Wave took control.
So while we certainly did not meet our prediction for something like a blowout against South Alabama, the Green Wave did capture a critical win. Tulane is now looking to start 2-0 for the first time since 2002 when JP Losman's Green Wave beat FCS Southern and Houston to open their season before later winning the Hawaii Bowl.
Wave of History
Tulane and Navy enjoy a long history dating back to 1950 when the Wave first beat the Midshipmen 27-0.
The overall record stands at Tulane leading 12-11-1, so Navy will come to Yulman with the potential of equalizing the historical series. In the last five meetings when the two programs played in the now defunct AAC West:
2019: Navy wins 41-38
2018: Tulane wins 29-28 in the final two minutes to secure bowl eligibility
2017: Navy wins 23-21
2016: Navy wins 21-14 in Fritz's first season
2015: Navy wins 31-14 in CJ's last year with Keenan Reynolds at the helm
On the surface, Navy has certainly got the better end of the deal with four out of the last five "Trident Trophies" going back to Annapolis. However, these games have been virtual locks to come down to the last possession in almost every recent matchup between Navy and Tulane.
What to Watch For: Navy @ Tulane
When Navy has the Ball:
Can Navy replace starters on offense?
Navy lost a dynamic weapon in Malcolm Perry to graduation in 2019.  His successors had little success against BYU on Labor Day Evening.  Navy's offense relies on good decision-making and production from the quarterback position. You can't expect to replace Perry with someone as explosive as he was, but can someone step up and be productive for Navy against Tulane? 
Navy also replaced three starters on the offensive line after the 2019 season.  The offensive line failed to create much room to run against BYU.  Will Navy's offensive line be able to generate push against an experienced Tulane defensive line?
Watch out for the big play in the pass game
When Tulane was able to limit Navy's ground game in 2017 and 2018, Navy was able to hurt Tulane with its passing attack, generating 132 and 204 yards in the air respectively, which is a lot for a triple option offense.  Tulane will have to play sound, assignment football in the secondary to avoid giving up the big play in the air. 
Last year, Navy only completed 2 of 9 passes against Tulane but those completions went for 37 and 31 yards.  BYU was able to hold Navy to 4 completions for 30 yards.  If Tulane is going to win this game, it will have to eliminate the big play in the passing game. 
Set the edge
Navy's offense is difficult to defend because it requires a defense to not only be able to react to the fullback dive but also be prepared to adjust for the fake and to cover the option on the perimeter. Tulane struggled to set the edge at times against South Alabama, giving up chunks of yardage on jet sweeps and stretch plays.
If Tulane is going to silence Navy's offense, its defensive ends and linebackers will have to do a better job of forcing run plays back into the teeth of the defense.  
Stop the dive
If you can't stop the fullback dive against Navy, you can't beat them.  Last year, Navy fullback Jamale Carothers ran 14 times for 154 yards and 3 touchdowns against Tulane, including two long touchdowns in the first quarter and backup Nelson Smith added 76 yards on 14 carries. 
In years where Tulane has successfully defended the Navy option, it has held fullbacks to 4.0 yards per carry or less.  Keep that number in mind on Saturday. 
When Tulane has the Ball:
Bully ball
A lot has been said about Navy's inability to tackle against BYU a couple of weeks ago, but not enough has been said about the way that BYU manhandled Navy on the line of scrimmage. 
BYU was able to generate huge holes and allowing runners to run 5-6-7 yards or more before a Navy defender laid a hand on them.  Can Tulane create close to that kind of push? If it can, Tyjae Spears and company should have a big day.
Help Keon out
Keon Howard had an inconsistent start to the 2020 season against South Alabama starting hot on the first two drives of the game before slumping for most of the rest of the game.  Tulane receivers did little to help him, dropping a couple of key passes and failing to make plays on catchable, although difficult passes. Good passing teams often find a way to make plays on 50/50 balls.  Tulane needs its receivers to step up against Navy.
The Deep Ball
Tulane threw three passes that traveled over 20 yards in the game against South Alabama.  One was caught by Mykel Jones for a gain of 21, one was caught by Christian Daniels for a gain of 33 and the other resulted in a pass interference penalty in the end zone. 
With that in mind, look for Tulane to try to stretch the field against a Navy defense that lacks top end athletes on the back end.  Even if Tulane is unsuccessful in its attempts to throw deep, the threat of the deep ball could keep Navy's safeties from creeping into the box to stop Tyjae Spears and the running game.
Start Fast
While the scoreboard didn't reflect it, Tulane actually started fast on offense last week before a turnover ended one drive prematurely and a dropped pass on 4th down ended another. It's important for Tulane to start fast against Navy so that Navy has to play catch up and can't sit on the ball for long periods of time.
If Tulane gets off to a slow start, Navy might be able to possess the ball for close to 40 minutes in this game.  A fast start with points on the scoreboard is critical for a Tulane win.
Predictions from FTW
Kelly's Prediction: Navy has been stewing for the past two weeks after getting manhandled by BYU at home. Expect Coach Ken and Navy to come out fired up and ready to play in front of a national audience on ABC. Tulane actually matches up much better against Navy than it did against South Alabama, and if it can avoid a slow start, Tulane should be able to take home a W this weekend.  Tulane 27, Navy 17.
JP's Prediction: Navy has had a week and half with contact in practices and some time to mull over an embarrassing loss to BYU. They're going to come ready to play. Greenies get it done in the fourth quarter again to start 2-0. Tulane 30, Navy 27.
Enjoyed the post? Make sure to subscribe to our newsletter right here. It's free. Roll Wave.